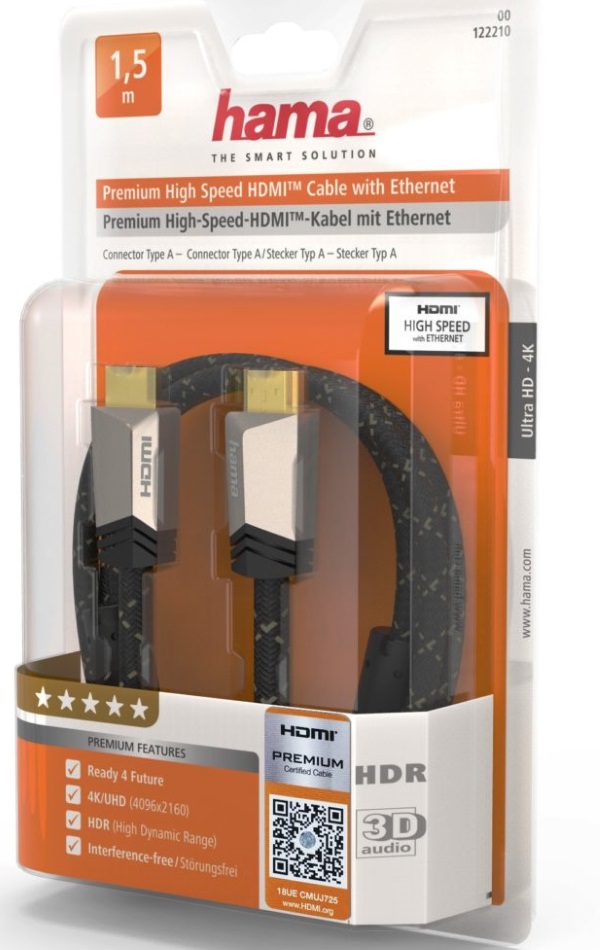 HAMA Launches Premium HDMI Cables at IFA in Berlin
The HDMI Premium Cable Certification Program continues to grow across the world as HAMA introduced a new line of Premium HDMI cables at the IFA show in Berlin. HAMA is one of the world's leading accessory manufactures and distributors specializing in several consumer product categories. With all the brick and mortar and online retailers HAMA represents you can expect to see more Premium HDMI Cables available across Europe and in HAMA's other sales regions. The new line is comprised of three product lengths – 0.75m, 1.50m, and 3.00m.
As HAMA's IFA press information states…. "Whoever buys a 4K or ultra HD terminal device attaches great importance to quality. Many people, however, forget or refuse to believe that the connection cable is equally important. If you want to fully benefit from the transmission quality and in order to be prepared for future generations of high-quality devices you should choose a HDMI cable with the official HDMI Premium logo." We agree.
Pictured are the new packaging as well as the Premium HDMI cable display at IFA.
Brad Bramy

September 15 2016