Secure, Simple and Smart Brand Protection and Consumer Engagement Platform
Authentic Vision's secure labeling and smartphone authentication program is an integral element of the Premium HDMI Cable Certification Program. The unique labels provided by Authentic Vision provide consumers with the assurance that they are purchasing Premium High-Speed HDMI Cables or Premium High-Speed HDMI Cables with Ethernet that have been certified to meet the highest performance standards established by HDMI Licensing, LLC, and not a counterfeit knock-off.
A unique label manufactured and controlled by Authentic Vision will be incorporated into the product packaging of each cable that has been certified. The Authentic Vision label can be recognized by the patented combination of an encrypted QR code and a security feature in the QR code's center.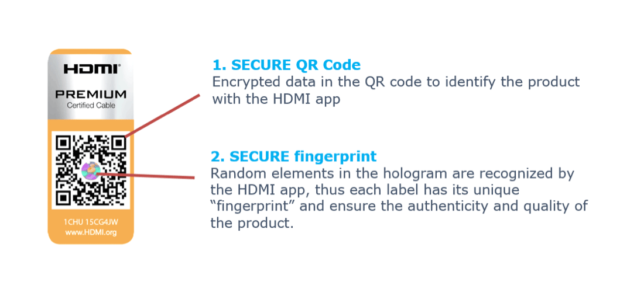 The secure fingerprint is a unique, randomized hologram, which works much like a fingerprint. Together with other on- and offline security measures, this individualized label ensures that it cannot be reproduced. Each label has its own unique identifier, thereby allowing products to be traced, identified and authenticated down to the individual item.
Consumers can authenticate products in a matter of seconds using their smartphone (Android/iOS) and the dedicated HDMI branded Verification App. After scanning an authentic label, consumers will get the confirmation "authentic" together with details about the product.
Authentic Vision's secure non-reproducible label allows the consumer to establish a secure communication channel between consumer and cable brand owner. This secure, simple and smart communication channel allows the brand to share product information, or can enable single-scan cable registration without hassling with serial numbers.
About Authentic Vision:
Authentic Vision is an international operating company specialized in brand protection and secure consumer engagement solutions. In collaboration with the World Customs Organization and supported by Dolby Ventures, Authentic Vision contributes to a secure environment. The unique solution represents not only a secure tool to authenticate products, but also a reliable way to connect brands and consumers for a trustful and long lasting relationship.
For more information please visit www.AuthenticVision.com
Authentic Vision GmbH
Jürgen Mathwich
COO, Founder
Brad Bramy

October 08 2015

Premium Cable,