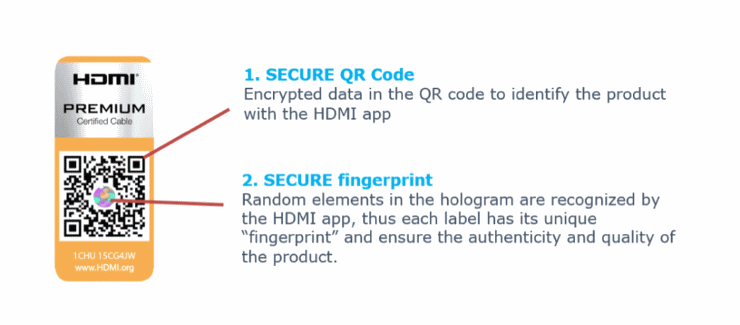 Premium High Speed HDMI Cable Program Launches
HDMI® Licensing, LLC is pleased to announce the official launch of a brand new testing program for Adopters called the Premium HDMI Cable Certification Program. The is a proactive initiative designed to help ensure that consumers, who connect their devices with these cables, will be able to leverage the full capacity of HDMI High Speed Cables; particularly when viewing the new generation of feature-rich 4K/UltraHD content that is becoming more readily available.
This program allows Adopters to further differentiate their HDMI cable offerings from cable products from manufacturers who do not adhere to the HDMI Specification.
Program Overview:
This program includes best-practices design notes, as well as an expanded set of cable testing requirements. These tests are in addition to the standard certification tests that all High-Speed HDMI cables must pass.
This is an optional program for HDMI Adopters to design and certify that their High-Speed HDMI Cables that are compliant with the current HDMI Specifications, to ensure that they provide the optimum performance that's needed for 4K/UltraHD content.
Under this program, Participants will test their HDMI cables at an HDMI Authorized Testing Center (ATC) to certify that their HDMI cables can reliably support the full 18Gbps bandwidth of the HDMI 2.0a Specification, which is what is typically needed for the most advanced video formats such as 4K/UltraHD, a wide color gamut, and High Dynamic Range (HDR).
The Program also incorporates brand new testing guidelines for EMI (Electromagnetic Interference) levels to minimize unwanted interference with wireless signals in today's connected devices. This is new set of tests that historically have not been required in certifying HDMI cables within the HDMI Authorized Testing Centers.
Cables that meet the testing requirements and are registered with HDMI Licensing, LLC, can be branded and promoted as Premium High-Speed HDMI Cables or Premium High-Speed HDMI Cables with Ethernet.
Given the need for increased protection against counterfeit cables, we are taking proactive steps to reduce the risk of counterfeiting by making available a tamper-proof, anti-counterfeit label that Adopters can incorporate into the product packaging for these new HDMI products.
Consumers shopping for these new Premium High Speed HDMI Cables will find that approved cables carry a unique anti-counterfeit label to clearly differentiate them from other HDMI cables. (See the sample) Combined with a downloadable mobile app that scans the label, this labeling allows manufacturers, distributors, retailers and consumers to validate the authenticity of Premium High Speed HDMI Cables.
Border patrol and customs agencies around the world responsible for policing counterfeit products can use this anti-counterfeit technology to prevent counterfeit and unlicensed products from reaching the market.
HDMI Adopters who wish to participate in this new program can sign up via the HDMI Adopter extranet, and participating HDMI ATCs are ready to accept cables for testing.
For additional information on the Premium High-Speed HDMI Cable program, please see this blog entry.
Brad Bramy

October 05 2015

Premium Cable,